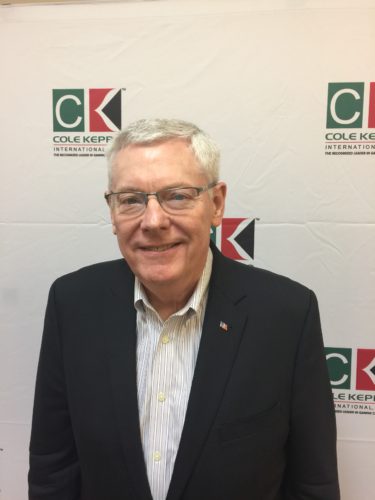 FOR IMMEDIATE RELEASE
Contact:            Frederick A. Cook Jr.
Company:         Cole Kepro International, LLC
Phone:              702-633-4270
Web Site:          www.colekepro.com
E-Mail:              fred@colekepro.com
Richard H. Currie Appointed as President of Cole Kepro International effective 11 September 2017
North Las Vegas, NV – 11 September 2017:  Mr. Currie is a highly experienced senior executive with 30 years' experience in the electronic entertainment sector, with 20 of those years in regulated gaming.  His experience spans gaming machine design and manufacture, as well as the design and manufacture of peripheral gaming equipment.  Mr. Currie was the founding president of WMS Gaming, held senior executive positions with Coin Mechanisms and Game Mechanisms, and was the president of Elite Gaming Technologies.  Mr. Currie received his MBA in
International Business from Roosevelt University in Chicago, IL; and also retired as a Major from the US Army Reserve where he held command and staff positions in two Special Forces Groups.
Mr. Currie commented:  "CKI is a company with a superior reputation, earned over many years of leadership in the design and manufacture of gaming cabinets.  I am excited to join such a well-established organization.  There is significant growth potential for CKI in the Gaming sector, as well as other market categories. I am looking forward to the opportunity to meet the needs of our current customers and well as earning the business of new customers"
In the newly created position of President, Mr. Currie will report directly to Frederick A. Cook Jr, the Chief Executive Officer of Cole Kepro International, and will join the company's management committee.
Mr. Cook stated: "Richard brings not only superior executive management skills and experience to CKI, but also leadership and mentoring ability that will complement the fine team we have assembled.  Richard has a proven record of achieving exponential growth with all of his previous companies and we expect that same record of successful growth to be achieved at CKI.  In addition, Richard has a well-earned reputation for integrity which has earned him the respect of his peers in the Gaming community."
ABOUT COLE KEPRO INTERNATIONAL, LLC. – Cole Kepro International, LLC is a North Las Vegas-based designer, developer and manufacturer of high performance slot machine cabinets, kiosks, and other metal fabricated products and associated peripherals. With manufacturing facilities in North Las Vegas, Texas, Taiwan, and Mexico, CKI offers a full range of services to all its customers with an emphasis on quality and value. Cole Kepro International is the industry leader in gaming cabinets.
###